Over time I have accumulated a fair number of collectible items that I have treasured and enjoyed for many years. I am getting to the point where I just don't need them anymore and it is time for them to find new homes where they will be loved and appreciated by the next generation.
I have researched all the items to the best of my ability to provide accurate information about them, but there may be some information I have missed or have been unable to find. When this is the case, I opt for my best reasonable guess as to their value and heritage. I always welcome new information or input from the more knowledgeable collectors out there, so please do let me know if there is anything I can add.
To view the items in a larger format please click on the image.
#CJ101
This a marked Coro Duette Art Deco style pave rhinestone fur clip/brooch with Rhodium plating. The patent numbers 1798867 & 1852188 reflect the patent dates for the frame mechanism of 1931 & 1932. It breaks into 2 pieces and features both clear and blue rhinestones. There is some darkening & yellowing of some of the small stones, and slight damage to 2 of them. There is damage to one of the center baguette stones.
3 1/2″ x 1 1/2″
Price: $40.00
#CM107
This is a vintage Swedish match box holder with a striker on top and the mark EPEHA on the bottom. It has the inscription "Stockholm  Kungl.Slottet" which I believe is the royal palace of Sweden. It appears to be 1920 – 1930's and looks to be silver plated. It has some wear and tear to the surface but is free of any damage. Shown open.
2 3/8″ x 1 5/8″ x 3/8″
Price: $20.00
#CM109
I believe this is a very early Mickey Mouse child's spoon, possibly a prototype. I found lots of other ones with somewhat different markings, but none exactly like this one. It is silver plated & marked Branford, and the differences are his short curved legs, smaller round feet, and odd eye placement. It has been used and shows wear and tarnishing.
5 1/2″ x 1 1/4″
Price: $40.00
Hot Wheels, Lesney, Matchbox & Other Die Cast Cars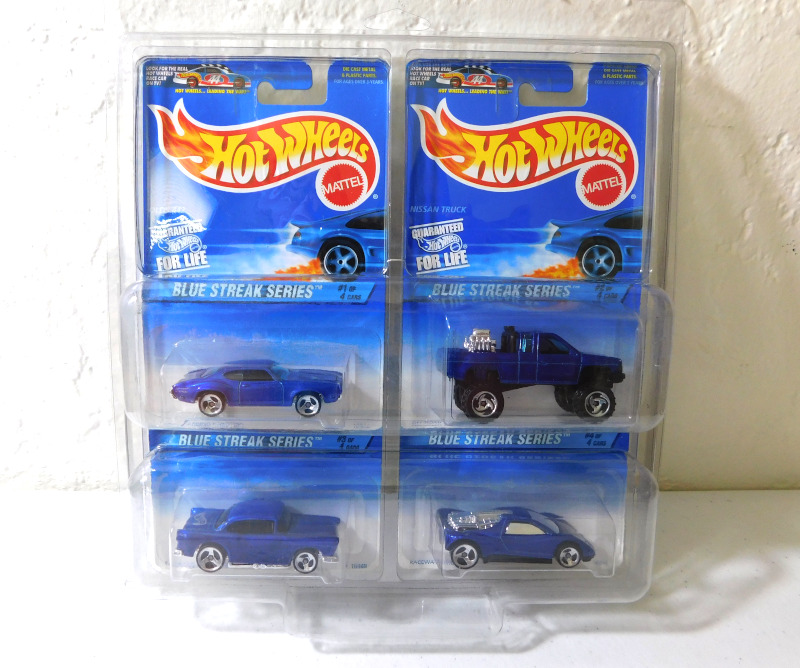 #CC105
This is a 4 car set of 1997 Blue Streak Series, collector cars #573, Hard Charging Hardtop!; #574 Off Road Attitude!: #575 Fabulous Fifties Flair!; #576 Raceway Blues!. The box is in unopened, very good condition.
Price: $20.00