Welcome to Patti Polk Rocks - the Rockin Home of Agategrrrl
Welcome to the home of Agategrrrl's unique and diverse personal agate collection, rock shop, and online store. We have agates with inclusions, jaspers, slabs, cabs, polished specimens, minerals, crystals, and rock collecting books. We also offer one-of-a-kind handmade jewelry pieces, plus – glass, stone, & metal art – AND a variety of eclectic collectible items!
The Agategrrrl Marketplace
Come on in and visit our newly designed online store and browse our newest selection of great lapidary slabs, designer cabochons, polished agate and jasper specimens, specialty items, and minerals. We also carry an array of collectibles that include items such as carnival & EAPG glass, vintage costume jewelry, pottery, paper ephemera, glass and metal art, and many other fantastic treasures!
And, last but not least, three of the best-selling rock collecting books worldwide authored by our own Agategrrrl, Patti Polk.
While you're here, take advantage of our free Agates Gallery and enjoy a visit to Agategrrrl's personal agate collections from Arizona, California, New Mexico, and other locations within the U.S. and abroad. Patti is working hard on adding a wide variety of agates, jaspers, and other stones from her collection as a valuable reference source online for anyone who is looking to ID an unknown rock, or who would just like to appreciate the different types of beautiful material that Mother Nature has provided so generously for us to admire and collect.
If you are visiting Tucson, Arizona, be sure to contact us if you would like to arrange an appointment to purchase polished agate specimens, slabs, cabochons, rough rock, hand-crafted jewelry, unique art pieces, or author signed books from Agategrrrl directly.
IMPORTANT NEWS UPDATE!!!
We have now added a brand new page with lots of links to sources with information about todays critical issues that you don't hear about on the news or can't find in the usual online channels and big tech media platforms. Our new page is called Awareness Info and you can find links to many reputable resources concerning your health, including vaccine injury reporting and Covid-19 fraud; political news and activism, and information about the current forensic audit happening in Arizona. Check out Awareness Info and come to your own conclusions!
EVEN MORE IMPORTANT!!!!!
If you want to check out how toxic or deadly the vaccine batch is that you have taken, you can check it here by lot number. This is accurate scientific information taken directly from the government VAERS reporting site. Everyone needs to see this!
Just who the heck is Agategrrrl? (otherwise known as Patti Polk)
Above all else, I'd like to say that I'm just your basic, garden-variety rockhound who happens to love to collect agates. My favorites are banded or fortification types, especially if they have colors of pink or purple in them.  I do appreciate other agates with inclusions too – such as tube, eye, moss, plume, sagenite, and so on. Also, Iris agate – another favorite. The colors are so magical and beautiful!
I'm not a big digger or a commercial collector. I pretty much just surface collect, prospecting and hiking around, picking up beautiful agates as I go. If I come across something really special though, I will bust out the pick & shovel and do a little digging. I've been collecting now for well over 20 years, and collecting agates has truly become one of the greatest passions of my life. I love finding, cutting, and polishing the stones that I find, and enjoy making jewelry and art pieces out of many of the agates that I collect. It is all just too much fun for words!
I try to get out and collect as often as time permits, but the collecting season in the desert southwest is severely limited to about 5 to 6 months of the year due to the extreme heat that we have during the brutal summer season. Needless to say, the summers here are best spent cutting and polishing your treasures while you patiently (not!) wait to be able to get back out in the field again in the fall.
I love using my agates and other lapidary material to make mixed-metal jewelry and multi-media art pieces that I sell off and on through through a number of fine art galleries, shops, and gem & mineral shows.
I am a professional author, having written three best-selling books worldwide on the collecting and identification of rocks, gems, and minerals. I am also an artist, dowser, astrologer, web designer, and teacher. I belong to a number of gem and mineral clubs, and often do speaking presentations on the agates and jaspers of the Southwest for many of the gem and mineral clubs in this region. So, have fun checking out some of my favorite personal agate finds in the gallery, and for everything else – have fun looking around!
~ Patti Polk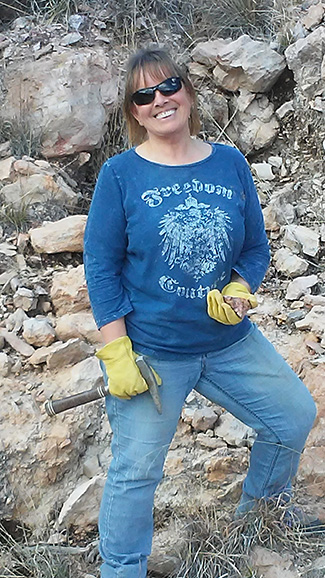 Agategrrrl out recently collecting a few treasures!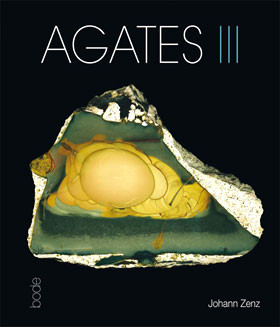 If you would like to learn more about Patti and her experience as a well-known and respected agate collector, be sure to get a copy of Johann Zenz's brilliant world-class agate identification book, Agates III.
Agates III is the third in a trilogy of agate collecting books, featuring the world's finest agates, and is a compilation of the world's top agate collectors.
You can find Patti among the very best of the most prestigious agate collectors in the world, and read a little about how she entered the passionate world of agate collecting, along with photos of some of her favorite pieces.
After meeting Agategrrrl online and swapping rocks for about a year, we decided to visit her in Arizona. It meant we could also attend the Tucson Gem and Mineral Show with her as our guide. This was useful as there are so many things to see in Tucson and Patti's local knowledge steered us to exactly what we were after rather than spending too much time driving from one venue to the next. Patti introduced us to many wonderful collectors and it was a privilege to see their collections. We then organised to go on a number of fossicking trips with Agategrrrl during our month long stay. Patti was well organised in her planning, suggesting interesting, out of the way places we had never heard of. It was wonderful being in the field with Patti as her knowledge of collecting agates and jaspers is second to none. She showed us what to look for in the landscape that revealed good agate bearing locations. We soon had pounds of quality agates and jaspers to ship home to Australia. Patti organised our accommodation at each of the fossicking sites which ranged from bush camping through to comfy, heated hotels. We always felt we were in very capable hands and had a great time in Patti's company. She's a clever, creative, funny and warm person to spend time with and I hope you get the chance to go rock hounding with Agategrrrl in the extraordinary South West.